7th August 2014
A fantastic little Brewery over in Darlington & friends of the Pubs.
Golden colour, moderate white head. Nice aroma of butterscotch and fudge. Refreshing flavour with a decent hoppy bitterness throughout.
Darlington Co Durham, 3.8%, Light Hoppy biter with a full fruity aftertaste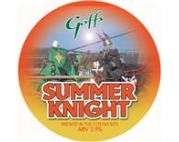 30th July 2014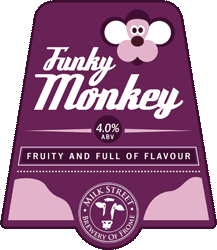 In the glass, the Funky Monkey is a copper-coloured little chap with tints of gold and orange. The nose features toffee, a soft pliant sort of toffee that also veers towards fudge, along with a juicy burst of orange blossom sweetness. It''s an enticing nose, refreshing and appetising. On the palate there i's more of the juicy, orange blossom sweetness, which makes for a thirst-quenching fruitiness, that then clears the way for a dry finish also featuring a citrusy return and a hint of passion fruit.
Somerset, 4%, Copper, Amber, Malty Soft Fruits, Toffee Rich, Roasted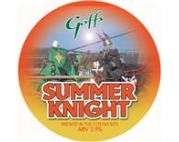 Poured orange in colour with fluffy white head. Some light fruitiness in aroma. with some faint floral notes as well. Light malty in flavour. A bit dry, but somehow you can at least imagine some kind of summer here. Light fruitiness is also present. First impression was a bit dull, but it got better, felt very pleasant.
Gloucestershire 3.9%, Light Golden, Hoppy, Refreshing