Come Dine and Dance with
Little Stevie and The Business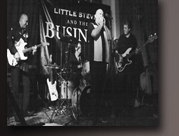 Come and Enjoy our First Music Night and Try our Early Graising Menu.
2 Course £13.95
3 Course £15.95
Enjoy Great Food, Wine and a Great Band with Guaranteed laughs  Supplied by Eugene  Along the Way.
Menu Served 18.00 to 19.00 and Our Evening Menu Starts at 19.00
Band Starts at 20.15
So Polish off Your Dancing Shoes and Enjoy a Great Evening.
Bio of Little Stevie and The Buisness
We have been playing together now for over ten years to audiences up and down the UK and Europe and we pride ourselves on delivering a very polished and professional performance at every gig we do.
We are a very versatile band with the capability of doing great R & B, straightforward blues or upping the tempo with some popular 60's and 70's classics, or we can blend the whole thing together but always delivering a great nights entertainment, be it a birthday bash, a wedding or any other special function, however large or small.
All of our performances are delivered by our frontman, Mr.Entertainment 'Little Stevie' with great showmanship and some superb harmonica playing.
Little Stevie connects with the audience and has great stage presence and is always ready to demonstrate his great skill on the harmonica, rhythm guitar, tambourine and humor!
We like to think that the amount of work we have is a reflection of  our popularity? Try to see us!
STEVIE – Blues Harp / Vocals and he owns a guitar !
Demonic harmonica player, full of himself and ready to lift any night, whatever the occasion, delivered with style, cheek and lots of wit…….you won't forget him!
MEL – Drums / Vocals
With his worrying sense of humour and wearing an inane grin throughout his performance, he delivers a solid drum sound, relying on his many years of playing experience.
JOHNNY– Guitar 
A wizard of the 6 strings Johhny is always ready to surprise with his very versatile playing ability and his sense of humour, you never know what style he's coming up with next. He has had more guitars than most people have had hot dinners !!!
PHIL – Electric and Double Bass / Harmony Hairspray
Looking after low notes on electric and double bass is Phil has big hair, is as old as the hills but locks into the drums to provide one of the tightest rhythm sounds around