New Prix Fixe Menu is upon us!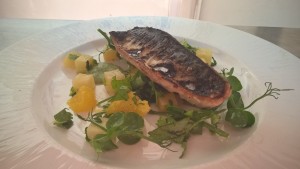 (Harissa Mackerel)
Spring/Summer Prix Fixe menu start 12th May 2015….
Served :Lunch Tuesday Saturday 12-2pm, Dinner: Tuesday 6-9pm
Weds-Friday 6pm – 7.15pm
Dave Henry & the team have selected some locally sourced products and presented them in a tasty form at a great price.
See The new menu below:
Prix Fixe
2 Course £14.95
3 Course £16.95
Soup of the Day
Prawn Cocktail
Smoked Salmon Rillettes, Pickled Vegetables & Toasted Sourdough
Pan Fried Black Pudding, Celeriac & Apple
Barley Risotto, Marinated Feta
***
6oz Sirloin Steak, Chips, Peppercorn Sauce
Crispy Lamb Belly, Minted Pea & broad Bean Salad, Green Asian Dressing
Fish of the Day, Crushed New Potatoes & Lemon Beurre Blanc
Harissa Mackerel, Beetroot, Orange & Mint Salad, Yoghurt
Melenzane Ripiane, Crisp Salad
***
Buttermilk Panna Cotta
Lemon Meringue Parfait
Bakewell Tart
Passionfruit & Ginger Cheesecake, Mango & Coconut
Knickerbocker Glory
Chef's Cheese Selection